Panetix observatory 508mm Telescope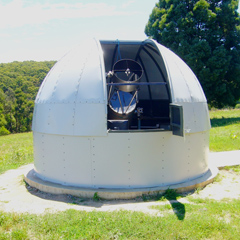 MECHANICAL details.
Design by Marek Dobiecki.
Mirror Cell by Gary Mitchell.
AltAzimuth mount by Marek Dobiecki and Nick Booth.
Alignment and coupling adaptors by Nick Booth.
Spider and secondary mirror mount by Nick Booth.
Drive Electronics adapted from Mel Bartels stepper controlled telescope, designed and constructed by Marek Dobiecki.
Wireless control and autoguide units by Marek Dobiecki.
1.2 Nm Steppers for each drive from RS Components.
2 zero backlash 30:1 reduction gearboxes (Dynabox) for each drive from Girard making 900:1 reduction..
Drive software from Mel Bartels stepper controlled telescope.
Autoguiding electronics re-engineered to integrate with Mel Bartels stepper control software.
OPTICAL details.
Mirror 508mm: Speed f4: focal length: 2032 made by Mark Suchting.
90mm Pyrex Secondary mirror from Protostar USA.
Paracorr2 coma corrector from Televue.
CB245 ccd camera electronics constructed by Marek Dobiecki. Housing by Nick Booth. The CB245 is argon filled with water-dissipated peltier cooling. Chip size is 756 x 483 pixels. Images prior to 2010 were mostly done with this camera on the 333mm telescope.
Opticstar DS-145m-ice camera ... air cooled with a Sony ICX285AL monochrome chip is mounted onto the Paracorr2.
QHY5 guide camera mounted on a 100mm celestron reflector. PHD guiding software used.